Fit Test Kit
Overview
This irritant smoke fit test kit allows for qualitative fit testing on positive pressure respirators, and meets respiratory protection requirements for OSHA in H2S environments. Simple to use, will allow fit testing for 20-25 uses. We recommend one fit test kit for every 18 students.
Specifications
Manufacturer: Allegro
Item: Fit Testing Kit
Fit Test Type: Irritant Smoke
Fit Test Class: Qualitative (QLFT)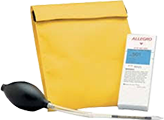 Includes: 6 Irritant Smoke Tubes, Aspirator Assembly, Carrier Pouch
Irritant Smoke MSDS: Download
Instructions for Use: Download
OSHA on H2S Fit Test: 1910.134(f)
For further assistance, or any questions you might have about the Allegro Irritant Smoke Fit Test Kit, Contact Us.